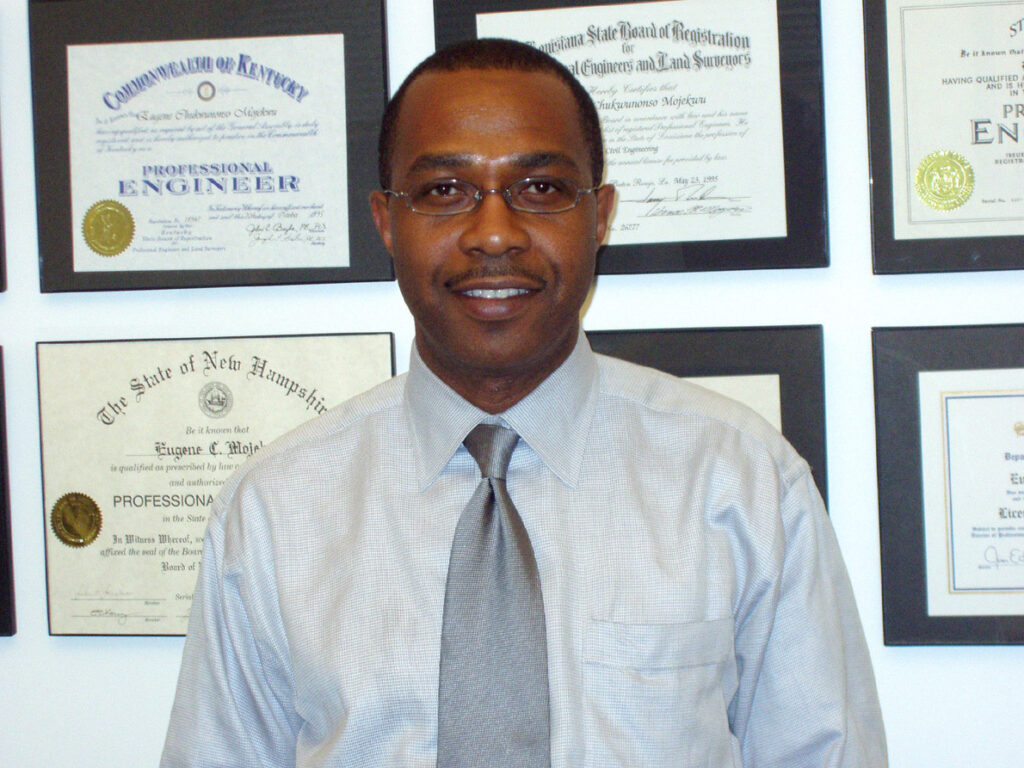 Gene C. Mojekwu, President of  Matrix Engineering Corporation  may pass you by unnoticed. Petit, quite, easy going, cool and collected, Mojekwu radiates little or no attention onto himself especially if he did not lighten-up his handsome face with a beaming smile.
     Yet Mojekwu's  signature is hard to miss in and around Chicagoland area, Illinois and 39 other states where he is licensed to practice engineering. The Dinosaur at the Chicago's Museum campus is one of his signature tunes.  
Besides, Matrix Engineering designed the new fire stations being constructed across the Windy City and he is involved in the new Kennedy King College, a brand new campus of over $100 million  in construction cost.
Currently Matrix Engineering is building a 14-story condominium at 4700 North Sheridan Road and another magnificent Trust Bank building on 79th and Dan Ryan highway, a lot of schools buildings, libraries and condominiums. Our projects are all over the place," he said with satisfaction.
Born 44 years back in Anambra State, Nigeria Mojekwu arrived Texas Tech University in 1976 for a four-year college degree and graduated after just two years as the youngest and best student.
"It was an accomplishment. I was just 19 years of age but having been trained in the Nigeria high school then, I was used to taking many of courses," the soft-spoken engineer said,
All through college, he was constantly on the Dean's list.  A year later in 1979 he got his masters degree.
Many wondered how he coped and excelled at Texas Tech but Mojekwu, owner and CEO of the largest Black engineering company in Illinois flashed back to his teenage years at Afrikpo High School when discipline and competition held sway in school.
"It was easy. Pretty easy. I wasn't distracted by other aspects of  things in the society here. I was able to focus all my energies on studying. My father paid the tuition and other bills and there was no need for me to shuttle between jobs and schools," he explained.
Excited and energized by his exploit, Mojekwu registered for the PhD program at the university of Texas in Arlington and earned his PhD in structural engineering in 1985. Local newspapers in Texas and Lagos, Nigeria  ran stories and commentaries on his academic wizardry.
Jobs did not come right away but like a typical Igbo man, Mojekwu took to business, the pastime of Nigerian Ibo instead of complaining about discrimination and other challenges of life.
"Dare to compete and be the best in whatever you do. If you are a digger, be the best digger. If you are a journalist, be the very best reporter. I'm sure I have faced the same struggles all of us face here but I have never faced direct discrimination. What I try to do is to overcome discrimination by being better than the adversaries and competitors," he said.
"You cannot legislate somebody to love you. You can pass all the laws you want.
We don't want this and we don't want that. That is ok but the only thing that changes people's way about you is how they perceive you. If they see you as intelligent or more intelligent than they are what are they going to discriminate about" he asked rhetorically.
Mojekwu believes discrimination is more pronounced when the victims succumb to the stereotype image hounded on them instead of standing tall in the face of adversity stressing "nothing defeats discrimination faster than knowledge."
He ventured into dry cleaning business and later became a real estate broker between 1985 and 1989 when he eventually joined Holabird Root and later Kleinhoffman, another engineering company.  
Real estate brokerage and the attendant commissions that flowed his way almost lured him  away from engineering, his first love. "It was a tough decision then to go back to engineering  because I was making far less money on joining Holabird when compared with my intake in real estate. My only leverage then was that it is the right think to do," he said.
Mojekwu encouraged first generation African immigrants to always looking at the long-term benefits in their decision-making instead of allowing quick money to derail their destiny.  The stake is higher to make money now in taxi driving and similar jobs   when we succumb to  pressures from home and  other responsibilities before us here," he said.
"Taxi driving is ok. It is work. It is better than no work but you don't grow as fast as you do if you go through the ranks of your profession. I will recommend people to start small in their profession no matter how little the income may be. Ultimately if you are good at the vocation, you will reap the reward anyway," he advises.
   "I stayed with those companies for about 5-6 years and decided to open my own firm. I incorporated Matrix Engineering in late 1995. Buoyed by his practical and theoretical experience, the now fast and straight talking, big-hearted Mojekwu dare to compete. It paid-off.
The Dinosaur and so many other projects that came his way were perfectly executed. The community and various tiers of government began to take notice of the burgeoning engineering firm. And in less than 10 years, it became the largest Black structural engineering company in the state.
"It is so sad  that I can't count on one hand the number of license black structural engineers in Chicago. Chicago is a city of millions and millions of people. Initially my company is the only structural engineering  outfit around. Today there are few additions.
   In a situation where there is no competition, it is hard to be the largest. Matrix Engineering grew in leaps and bond by being the best structural engineers in town. Even though we do a lot of public works, we also have a lot of private clients who kept coming to us not because we are Black engineers but because Matrix will give them good service. That is how I grew up. By not sleeping too much and doing good work," he said.
Some of the projects like the Dinosaur posed different challenges that could either elevate Matrix to the elite class or bring the firm down.
"The Dinosaur was a very challenging project because it is not a building. And it was not tied down and we had a lot of restrictions and the city wants it to look like the real animal," he reflected.
"There were lot of forces like snow, ice, wind, people hanging on the tail and others we had to deal with. We had to come up with a really ingenious structural scheme to make it work," the boyish looking CEO reminiscences.
Despite all his exploits so far, Mojekwu still have many ambitious projects close to his heart. The father of two sons is anxiously waiting for the day he will be able to build the tallest building in the world. "We will get such a commission in the future," he said.
"I want to be able to say I did Sears Tower. You don't have a lot of Sears Tower to go around but I'm hopeful and ultimately believe that we will get there as we keep establishing Matrix as a major player in the country," he said.
Mojekwu is also desirous to return home and duplicate what he is doing here. He was however quick to question the possibility. "We are a young country. We are growing and still developing. I really don't know how rewarding it will be going back right now. I don't know if I will be able to feed my family very well by practicing this profession. My wife love Nigeria and wants to live in Nigeria" he said.
Gene as he is called by friends urged first generation African immigrants to keep their goals intact all the time. America is full of good and bad things. He is not worried about young people having fun as long as they are not distracted from the goal they are trying to attain.
In Texas, "I used to partying from Wednesday through Sunday. It's part of life. My friends in Texas used to say we don't know how you cope. You party more than everybody else, yet you are the first in your class. It works for me because life is not all about reading. I advise people to do what works for them. Four years is not enough sacrifice to lay a solid foundation for your future. You can have fun and be miserable for the rest of your life or vice versa," he counseled.
   Gene and seven other siblings of his parents all attended university in the United States. "My father paid for our school fees. It is good to have a father like that and frankly his sacrifices had paid off on two occasions when he had a brush with death.
   Each times, Gene ferried the father to Switzerland when he had a system blockage and recently to the country when armed robbers attacked him.
Like a Biafran soldier, the older Mojekwu fought back but the dare devil robbers chopped-off part of his head and ear with gun bullets. Besides Gene, Ona is a structural engineer and regularly she comes from Nigeria to work for six months in her brother's office. Nikki, another sister is into politics while Eva, another sister studied economics. His younger brother is into structural engineering while one stayed back in Texas and another runs the family business-Beco Oil in Nigeria.