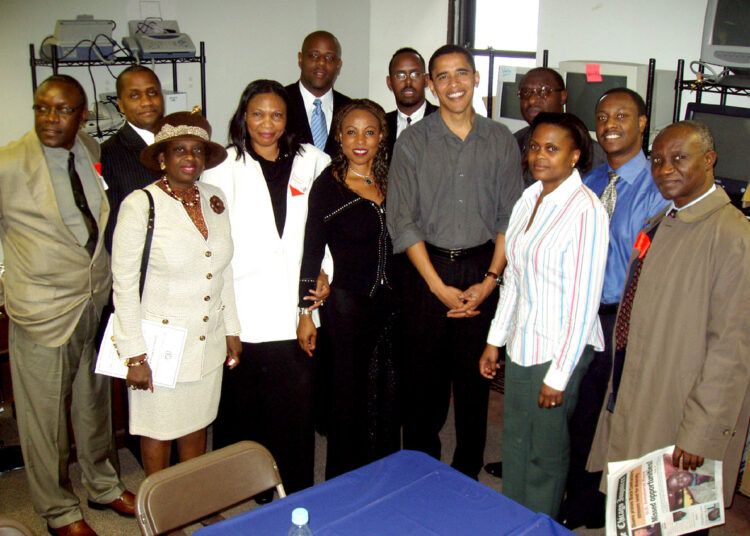 By Joseph Omoremi, editor
Officials of the United African Organization (UAO) have been asked by the Democratic senator-elect Barack Obama to constantly relay to him issues affecting the African community with a pledge to address some concerns on immigration matters.
"I will be very active on immigration matters in terms of visa, waiting for time, deportation and processing immigration papers for Africans both here and in Africa," Obama told UAO officers and Africa for Obama committee members during a meeting with them after his victory last month.
UAO president, Andrew Eperi, had informed the 43-year-old Democrat senator-elect that immigration laws are not favorably skewed towards Africans and appealed to him to assist when necessary.
"We will do everything that is necessary to help. We can't get around immigration books but we can change the laws. I've got to be above board and orderly. I've got to be cleaner than clean. Don't ask me for favors that I can't do for others," he admonished the group.
He charged them to present concerns that are unique to the African community instead of reiterating general concerns like health insurance reform, low paying jobs, quality of education and employment stressing "let me know issues Africans face specifically in this country."
Obama advised them to excise patience with him as he settles down in Washington DC if he could not meet some of their expectations because of the demands in the senate and his busy schedule.
"Since you've invested a lot in me, you've got to understand my schedule. If I honour every invitation, I'm not going to be successful. I'm getting 200 invitations a week to speak for 2006 and 2007," he said.
He commended the organization and the youthfulness of the officers and advised them to work hard to earn the trust and confidence of the community and not to lose sight of championing the cause of the African people since Africans don't have relatives here like the Mexicans, Pakistan or Italian Americans
He advised African immigrants not to "live in" the exaggerated news reports about his election that the streets of Kenya would be tarred and new cars and refrigerators would be distributed across Kenya where his father was born.
"It is the same feeling we African residents had about America before we came here despite the fact that we had "more prosperity and opportunities" back home than here but we don't have relatives here to paint the true picture about America," said Obama.
"My election may end up falling into the same victim of your expectation at home because I don't have a lot of jobs to dole out. I don't have a huge budget like a mayor or the executive power like the president to make a policy decisions.,"
However, " as you recognize the limitation of my power, I'm ready to be the rallying point and inspiration for the African community. I don't want to be the big man among you because it breeds corruption. I just want to be a good senator. I'm one of the 100 Senators to help shape the discussion and make things happen in Washington DC."
READ ALSO:
Obama differs from Bush over Abraham Lincoln
He promised to speak on issues about Africa and make consultations with world leaders and presidents on issues affecting the Black continent. He advised UAO officers and other Africans to provide inputs and ideas to his office.
Obama also called for patience because "there are so many things to push for in Africa. Is it the Darfur crisis, HIV/AIDS, famine and immigration in the short term or the integration of Africa into the comity of nations and economic development" among others? He, however, added, "I don't want to be seen as the black guy in the senate but seen as a good senator."
He urged them to constitute themselves into a group, participate actively in politics, present issues and forget about abstracts. " One of my biggest buddies is the cab driver. "They hunk and shout Obama that I heard you on NPR. They don't have time for frivolities," he said.
He promised to work with the city and other local legislators, politicians and agencies to build a community centre for Africa but reminded UAO officers to build on their present efforts to build confidence and trust among the rank and file of community leaders.
Earlier, Africa for Obama coordinator, Symon Ogeto, had described Obama's election as having energized the African community. "Never before have Africans been united together for a cause like this to the extent that our community has come to the understanding that we have to be equal and be on the same footing with other Americans," he said.
He reminded Obama that there are over 750 million Africans, and could be a superpower if all Blacks could see themselves as one.
Eperi described his election as an inspiration to the community stressing "after 24 years in the country his election has become the inspiration in building a united force among the African community.
Retiring Charles Bowen, Executive Assistant to Mayor Richard Daley praised Obama for not forgetting his African heritage and taking time out to meet with United African Organization officers.
Bowen said he was not surprised that Obama's election into the US senate generated African support in Chicago because the city's relationship with the African continent is second to none among US cities.
Besides, the largest festival in the city is the African festival hosted annually in Washington Park by African International House (AIH) headed by Patrick Woodtor.
Also, the city is assisting African countries like Liberia with ambulances and providing garbage trucks to Ghana and Nigeria.
He advised UAO to unify all the ethnic groups and nationalities for their betterment in the country.