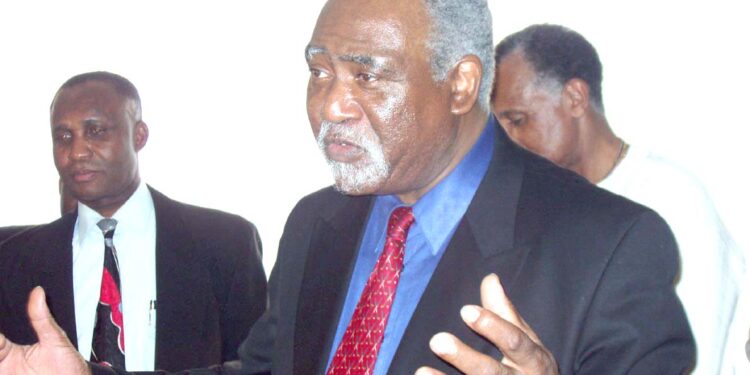 By Joseph Omoremi
"We may come in different ships but we are all in the same boat," Congressman Danny K. Davis told a group of African immigrants and Black Americans recently at fundraising hosted by Dr Shaffdeen Amuwo, associate dean, community, government, and alumni affairs at the University of Illinois at Chicago (UIC).
The time, he said, has come for both groups to have a rethink their relationship and find a long-lasting way of interacting together for the overall benefit of the Black race.
"I'm amazed at little interaction between African Americans and recent African immigrants," he said.
Quoting the bible, Davis said, "how can you hate your brother and love me, and how can you love Africa and hate African brothers here," he asked rhetorically and called for a healthy relationship between Africans that came from Mississippi and recent immigrants from the Black continent.
Pa David Olupitan, an Ijebu man who relocated from Ogun state to Chicago over 40 years ago traced the mistrust to a Tarzan movie shot in Mexico that portrayed African immigrants as monkeys who live on the trees.(See interview in page 10).
READ ALSO 
Obama pledges help for Africans
Congressman Davis urged community leaders in both communities to work out such differences and unite the two communities into a formidable force in the country.
This is the only way Blacks here could find answers to issues affecting both communities here and in Africa, citing Jewish Americans as an example.
"The Jewish people are dead serious about issues affecting them. We could be like them," he said
Congressman Davis explained that he is abreast of issues affecting the Black race be it in America or Africa. "I've seen people fall down and died in some parts of the world. I've seen my eyes babies with protruded stomachs in Ethiopia.
I've seen people standing in the square looking for work in America and I've been to the south and central America where a family eat corn two times a day. The parent either eat part of the corn in the morning and the children finish the leftover later in the day. It is when we are united we can reverse the situation," he said.
He explained that many are dying of HIV/AIDS throughout the world and the state of poverty and deprivation for Blacks in Diaspora, he said.
He encouraged recent African immigrants to be actively involved in politics and assist state senator Barack Obama in the US Senate, stressing that "the mere presence of a Black senator could be an inspiration to many people of color throughout the world," he said.
More than two million are in jail throughout the country and in Illinois where Blacks make up six per cent of the population, 60 per cent of inmates are Black, he said.
These are some of the reasons why Blacks must come together to reshape the future of the Black race for the better.
Dr Christian Akiwowos, one of the participants at the event suggested naming the proposed African community centre Danny K. Davis African community centre in appreciation of his efforts in Congress and as a city alderman initiated the passage of a bill that called the city of Chicago to diversify its investment in South Africa during the apartheid era.